On July 26, 2019, a meeting was held to discuss the intermediate results of the research work «Research and test on resistance of different types of wires to glaze-ice and rime depositions», carried out by the Skolkovo Institute of Science and Technology in cooperation with the Typhoon scientific development and production center. The meeting began in Skolkovo with a welcome coffee and an introduction to the Skoltech Climatic lab, where an experiment simulating crystalline ice on a wire was demonstrated. Then the participants went to the city of Obninsk, where in the Typhoon laboratory complex the meeting participants were shown the process of testing wires under voltage for resistance to the formation of granular frost and ice. The research staff of the institutes made a presentation of the intermediate results of the work and organized a round table dedicated to clarifying the methodology for further work. The presentation was led by CEST researcher Dmitry Titov.
The meeting was attended by representatives of the electric grid complex (PJSC ROSSETI and PJSC IDGC of the Urals), heads of technical areas of leading production cable plants of the Russian Federation (LLC Kama Cable, LLC Lamifil, JSC Lyudinovo Cable, LLC Northern Cable, Management Company Uncomtech JSC (Irkutskkabel JSC, Kirskabel JSC) EM-Cable LLC, Energoservice LLC), research associates of the Typhoon and Skoltech institutes.
During the round table, suggestions were made to improve test procedures. Further work will be carried out taking into account the decisions adopted at the meeting. The next stage of the work involves testing various types of wires according to the approved methodology to assess their resistance to glaze-ice and rime deposits.
Based on studies on the scale of this research, recommendations will be formed on the use of wire types available on the market, taking into account their properties that affect the formation of glaze-ice and rime deposition.
The result of the work will be the developed recommendations for amending regulatory documents: Rules of Electrical Facilities Maintenance-7, chapter 2.5, directive document 34.20.504-94 "Typical instructions for the operation of overhead power lines with a voltage of 35-800 kV", Rules for the technical operation of power plants and networks of the Russian Federation clause 5.7.22. It is planned to create a draft standard of PJSC Rosseti «Technical requirements for new generation wires».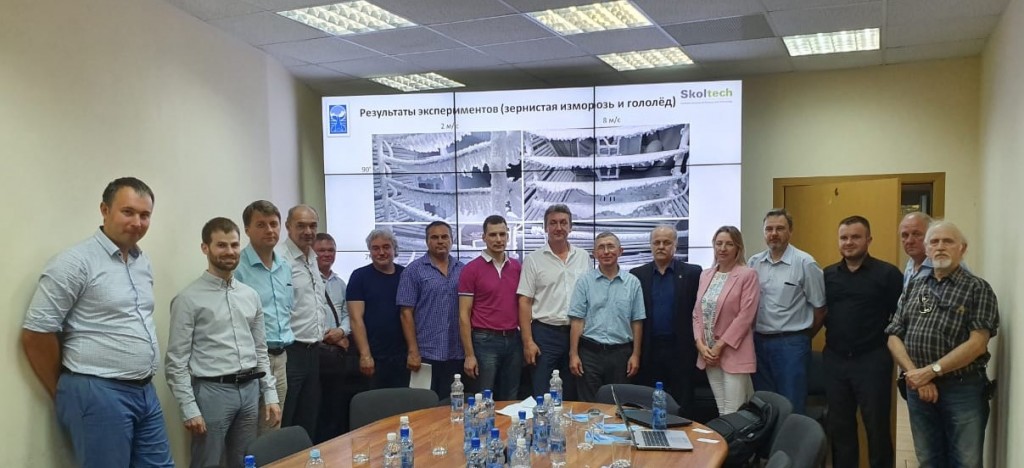 26 июля 2019 г. состоялось совещание, посвящённое обсуждению промежуточных результатов выполнения НИР «Исследования и проведение испытаний на стойкость к гололедно-изморозевым отложениям различных типов проводов», выполняемого АНОО ВО «Сколковский институт процесс испытаний проводов под напряжением на стойкость к образованию зернистой изморози и гололёда.  Научными сотрудниками институтов была проведена презентация промежуточных результатов работ и организован круглый стол, посвящённый уточнению методики проведения дальнейших работ. Презентацию вёл научный сотрудник CEST Дмитрий Титов.
В совещании приняли участие представители электросетевого комплекса (ПАО «Россети» и ПАО «МРСК Урала»), руководители технических направлений ведущих производственных кабельных заводов РФ (ООО «Камский кабель», ООО «Ламифил»,  АО «Людиново кабель», ООО «Северный Кабель», АО «Управляющая компания «Ункомтех» (АО «Иркутсккабель», АО «Кирскабель») ООО «ЭМ-Кабель», ООО «Энергосервис»), научные сотрудники институтов Тайфун и Сколтех.
Во время круглого стола были сформированы предложения по улучшению методик испытаний. Дальнейшие работы будут проводиться с учётом принятых на совещании решений. Следующий этап работ предполагает проведение испытаний проводов разных типов по утверждённой методике для выполнения оценки их стойкости к гололёдно-изморозевым отложениям.
На основании исследований в рамках данной НИР будут сформированы рекомендации по применению имеющихся на рынке типов проводов, с учётом их свойств, влияющих на процесс образования ГИО.
Результатом работ станут разработанные рекомендации по внесению изменений в нормативные документы: Rules of Electrical Facilities Maintenance-7, глава 2.5, directive document 34.20.504-94 «Типовая инструкция по эксплуатации воздушных линий электропередачи напряжением 35-800 кВ», Правила технической эксплуатации электрических станций и сетей Российской Федерации пункт 5.7.22. Запланировано создание проекта стандарта ПАО «Россети» «Технические требования к проводам нового поколения».