I Conference of Young Scientists 2016
50 science students from all over Russia – Moscow, St. Petersburg, Ekaterinburg, Samara and a few other places – gathered in Suzdal in mid-September, for the first International Conference of Young scientists "Topical Problems of Modern Electrochemistry and Electrochemical Materials Science".
The conference, which was a satellite conference to the XIV International conference "Topical problems of energy conversion in lithium electrochemical systems", was organized by Skoltech Center for Electrochemical Energy Storage (CEE) together with the chemistry department of Moscow State University.
Dr. Svetlana Borisova, a Research Project Manager at the center, and one of the organizers, told us about the conference: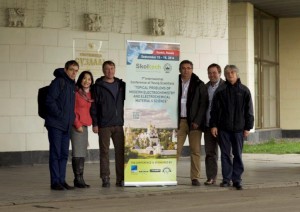 "The conference was organized by the CEE team: professors Keith Stevenson and Artem Abakumov, and our team members Artem Zaikin, Victoriya Godunova, Dr. Sergey Luchkin, myself and others. The purpose of the conference was to put together the best young scientists of Russia in the field of electrochemistry. We had several goals. First, we wanted to attract those students. Prof. Stevenson gave a general presentation about Skoltech, to inform people from other cities and other universities in Russia about Skoltech, to show that we have an international environment here, very high-leveled cooperation, and high-level laboratories. Second, the scientific and educational goal. We provided them access to the best lecturers in this field, increased their educational level and therefore expanded their horizons. The lectures were given by world's top scientists. Third, we wanted to bring these young scientists together to make some networking among them and our team. We gave the participants an opportunity to establish some collaborations and to address directly to the best scientists in this field. For example, during the poster session, we had many discussions, and I am sure that the students got profit out of it. They featured their researches and got feedback from senior scientists.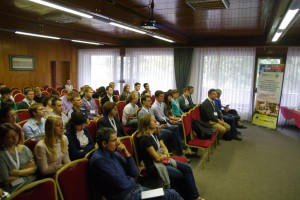 "The program of the conference was very intensive. We had a lot of lectures, given by professors from France, USA and Russia, for example, Prof. Jean-Marie Tarascon from Paris, Prof. Yang Shao-Horn from MIT, Prof. Elena Savinova from Strasbourg. We also had tutorials, which were given by Skoltech postdocs, and as I mentioned before, a poster session. The topics of the lectures covered synthesis of electrochemistry materials, advanced characterization techniques, electrocatalysis, deposition techniques, transmission electron microscopy, organic materials for batteries, and of course, device applications.
"We planned that in the best case around forty students will apply for this conference, but we were not sure that in the reality we will get this number of participants, because we are kind of new. Of course, our fear was that we will not get the expected number of participants. Our professors tried to involve all the contacts that they have, and eventually we had more than fifty people who applied, so we decided to expand the number of participants. We didn't want to make a competition of participation, because it's the first time and it's better to involve as many people as possible. We were actually surprised by the attendance! We had a full auditorium during the lectures. That is really a great achievement!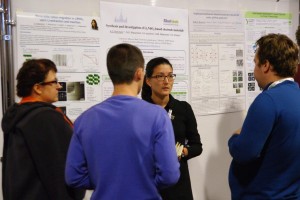 "Following to Skoltech tradition, we tried to maintain an open atmosphere, so everybody could communicate with everybody. We did not want the participants to split into groups, one of lecturers and one of students. When international lecturers speak, usually students are too shy to ask them questions. Therefore, we had a rule in our conference, that after every talk, the first questions are to be asked by students. Later, of course, there has been a discussion between the professors, but it was only after the students have asked their questions. After one talk, there were no questions from the students, and the lecturer said, "I will stay here until students will start asking questions", and then they started to think and ask. I was surprised it works! It was very important for us to involve them, and we achieved it by this very simple decision. In contrast to many conferences, where participants become less and less active toward the end, we had something like one or two questions after the lectures at the beginning, but toward the end, there were already long discussions and, thus, a wonderful atmosphere!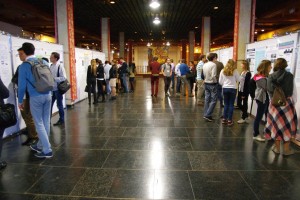 "As I mentioned before, we tried and managed to infuse the Skoltech spirit into the conference. It is very untypical for school conferences here in Russia, that all the talks and all the discussions will be held in English. For us in Skoltech it is very usual, but for most students, even from big cities, it could cause some communication problems. Of course, we invited only students who speak English, and they all prepared posters in English, but for me it was still surprising that the oral communication was so fluent and easy.
Apart from that, we tried to organize the conference at the highest level possible, to provide not only useful knowledge, but also some kind of pleasure in communication. We wanted to establish a good setting for networking, a democratic way to discuss, an international atmosphere. This is very typical for Skoltech that students are not have to be scared to approach a professor, can speak freely to everyone and always be taken seriously.
"We are already planning to organize the second young scientist conference in electrochemistry next year. And to expand the number of lecturers and participants. But, of course, it will depend on the possibilities of Skoltech and our CREI.
"Finally, I would like to thank the RFBR Foundation and our sponsors "Bruker" and "Torgovyi Dom Nauchnoe Oborudovanie / Huber" for financial support, all the organizers for this excellent job and all the participants for taking part in this great event! It was really a hard and a time-consuming work. That is why we are all happy about the result!"