Stanford U.S.-Russia Forum (SURF) is a special initiative of the Preventive Defense Project at Stanford University's Freeman Spogli Institute for International Studies. It serves as a platform for students to explore opportunities for mutual cooperation between the United States and Russia, a mission it has pursued since 2008. Aliya Khayrullina was selected from a highly competitive pool of over 600 candidates for this year's program, which had a 5.2% acceptance rate. Over the academic year, she worked on a collaborative research project with her peers at Russian and American universities to address Energy Geopolitics issues between the two countries.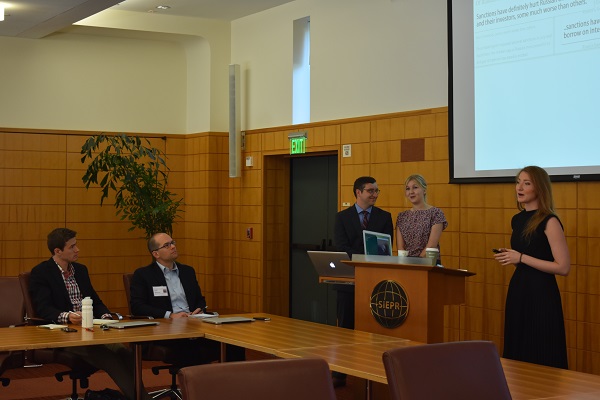 As the result of the program, Aliya Khayrullina together with Energy Geopolitics group presented the outcomes of the research during a Capstone Conference at Stanford on the 8th of April 2017. Working on the topic of Energy Sector sanctions, the group introduced Sanctions Impact Indicator that formed the list of companies ranked by the amount of negative impact faced by each company as the result of sanctions.
The findings say that a cooperation between Russian and multinational firms has proven to be a prerequisite for alleviating sanctions impact whereas lack of such cooperative partnership cost the firms dearly. The firm strategies and responses evolved to incorporate each other's practices and have come to yield better results in the longer term. The outcome of the study informs policymakers about the variations of sanctions impact both on the domestic and the international firms. Similarly, the nature of global energy industry today allows for successful partnerships between firms that make trade limitations and political risks such as sanctions less effective. Provided that the methodology is refined and modified further by addressing the limitations, it can be transferred to the analysis of similar cases across sanctioned economies.
Aliya believes that the SURF program gave her an opportunity to conduct substantive research on energy geopolitics in a cross-cultural environment of bright and intelligent students from all over the world. As a student with a technical background, she found it very challenging to research in the field of politics, but she also found it important to broaden her horizons in the field of Energy beyond technical aspects, following the advice of the associate director of Energy Systems CREI Janusz Bialek.