On 18 to 21 October at the Ufa exhibition complex "VDNKh-Expo" was held XVI Russian Energy Forum, sponsored by the CEO of JSC "Bashkir Power Grid Company". The central part of the business program was the plenary session "Innovative Energy: Fashion or Necessity?", Organized by the Government of Bashkortostan. It was attended by Russian Energy Minister Alexander Novak, Head of the Republic of Bashkortostan Rustem Khamitov, the Republic of Belarus Energy Minister Vladimir Potupchik, Chairman of the Board – Director General of PJSC "Rossetti" Oleg Budargin, Chairman of the Board – Director General of PJSC "RusHydro" Nikolai Shulgin, representatives of the federal authorities of Russia and the CIS countries, heads of major energy companies and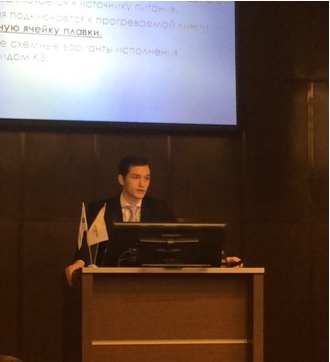 professional associations. The participants discussed the development of the energy sector, the feasibility of the introduction of modern technologies and options for solutions to the most pressing problems.
During the forum, the international scientific-practical conference "The work of power supply systems in sleet-wind conditions" was held. The organizers of the conference were Ufa State Aviation Technical University (USATU) , JSC "Bashkir Power Grid Company". At the conference, the results of analytical studies were presented on the topic "Methods of dealing with sleet formations on the overhead line conductors." The participant from the Skoltech Center for Energy Systems was a second-year MSc student DemidovAleksandr with the report on the theme of "Analysis of the methods for ice removal on overhead power lines", supervisor Prof. Ustinov AA. This is the first presentation on the topic of master's thesis.