December 14-16, 2015 in Bangkok the Economic and Social Commission for Asia and the Pacific (ESCAP) held a regional workshop on energy connectivity for sustainable development in the Asia-Pacific region: the vision, strategies and initiatives.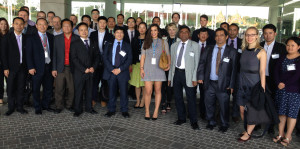 One of the priorities of ESCAP is to strengthen regional economic cooperation and integration on trade and infrastructure development, including transportation, information & communications technologies and energy.
The seminar featured a discussion of the issues of the regional energy connectivity development considering national and sub-regional prospects in order to increase the duration of power systems operation and ensure the cost-effectiveness of related initiatives and projects.
Ksenia Letova (Kushkina), project leader for the development of transmission lines in the North-East and Central Asia (Asian energy supergrid project http://www.skoltech.ru/pressreleases/vtoroj-mezhdunarodnyj-seminar-po-proektu-aziatskogo-energeticheskogo-koltsa/), Skoltech, represented the Russian Federation as an expert at the event and delivered a report.
Invited experts shared their experiences and expressed their views on the development of new formats of international cooperation in Asia, which will contribute to the strengthening of energy security in the region. Skoltech is actively engaged in research and development of the Asian electricity grid, therefore, is one of the event participants.
The meeting was attended by experts from the Asia-Pacific countries including China, Mongolia, Japan, as well as representatives of the International Energy Agency, the CIS Electric Power Council and other international organizations and regional research centers.​