CDSE PhD program
The Computational and Data Science and Engineering (CDSE) PhD program is one of the most successful PhD programs at Skoltech. Our PhD students publish numerous papers in high-rank Q1/Q2 journals and present the results of their work at reputable international conferences.
In April 2020, the CDSE Doctoral program has been internationally accredited by Hcéres (High Council for Evaluation of Research and higher education) for a period of 5 years.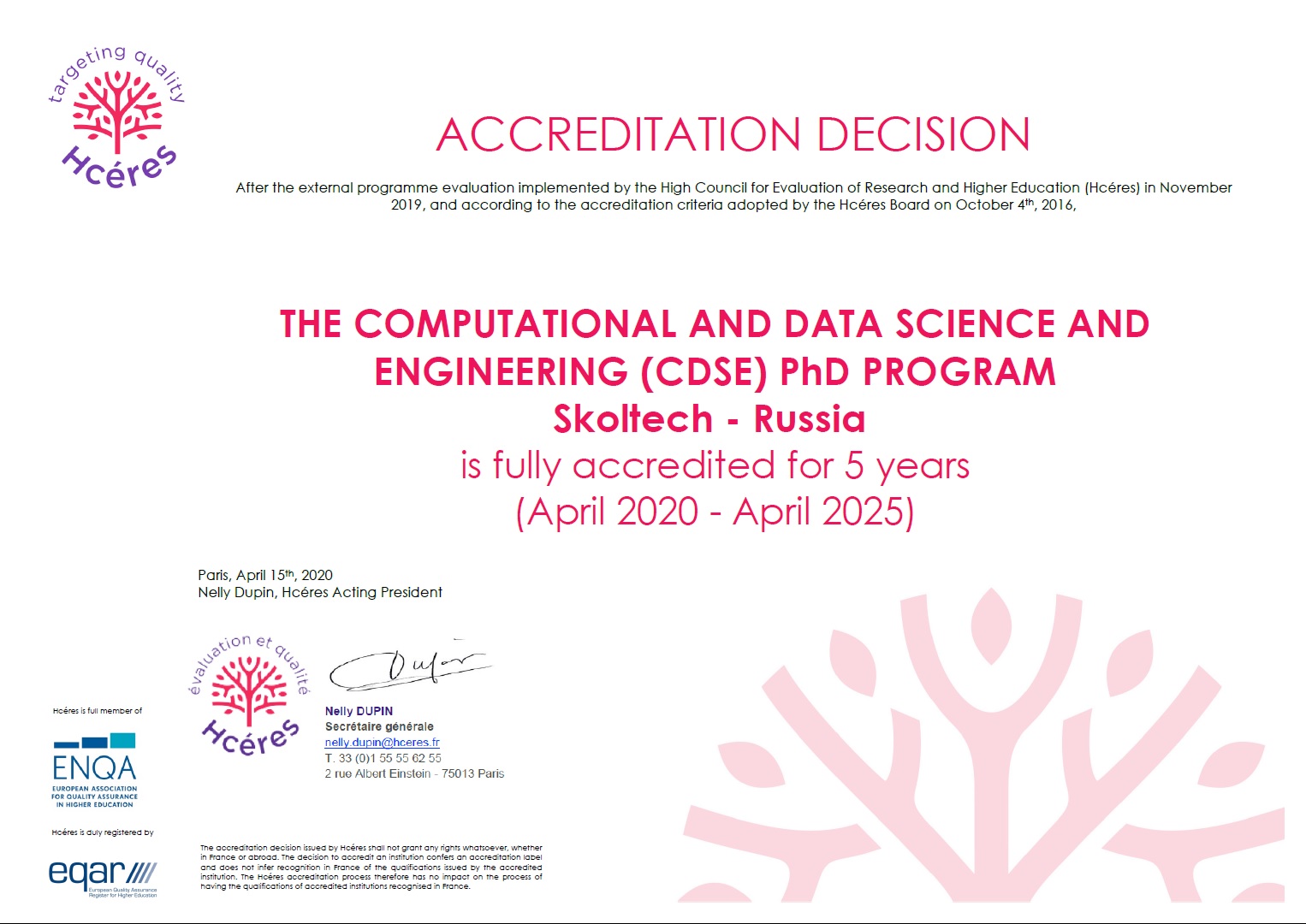 All PhD students are guaranteed a minimum stipend of 75,000₽ (for international students – 85,000₽) in addition to health coverage for the duration of their graduate studies, provided that academic standards are met, and progress towards a PhD is maintained.
CDSE doctoral program is focused around the next research areas and sub-areas comprising the research directions of CDISE:
Machine Learning, Deep Learning, and Artificial Intelligence
Computational Soft Matter and Complex Systems
Efficient numerical algorithms
Quantum Enhanced Computation and Simulations
High-Performance Computing (HPC)
Internet of Things (IoT)
Computer Vision, Robotics, and Visual Analytics
Biomedical Analytics and Systems
Digital Agronomics & Pharmaceutical Design
Chemo-informatics
Natural Language Processing (NLP)
Find out about the dates of the upcoming PhD selection wave.
All PhD applicants are highly recommended to contact a prospective supervisor from CDISE faculty and discuss the research project BEFORE APPLYING to the PhD program.
For more details about the CDSE program, please contact:
CDISE education team: 
CDSE program coordinator, Assistant Professor Maxim Panov
CDSE program director, Professor Maxim Fedorov
CDSE PhD program committee:
General e-mail:
You can check the PhD thesis defenses of CDSE graduates on the official webpage.