Recently, a delegation from Skoltech visited the International Astronautical Congress (IAC), a conference which took place on 1-5 October, 2018. The conference is considered to be the biggest annual aerospace event worldwide, with this year's IAC hosting more than 6 300 delegates. The event featured hundreds of technical and interactive presentation sessions, dozens of panel discussions within the IAC's Global Networking Forum (GNF), several plenary sessions with heads of agencies and leading aerospace companies, and many more events. In the heart of it, in a huge hall of Messe Bremen, hosting the event, a large exhibition was held with more than 30 pavilions of various sizes, some of them divided into smaller booths with various companies represented.
From left to right, Prof. Alessandro Golkar, Alexander Kharlan, Andrey Potapov, Shamil Biktimirov, Nikolay Mullin, Yaroslav Menshenin, Natalia Glazkova, Carolina Moreno Aguirre,Anastasia Fursova, Prof. Anton Ivanov
The Skoltech delegates presented at a number of technical sessions encompassing a spectrum of topics from systems engineering to aerospace education.
Alexander Kharlan, who has recently completed his 1st year of PhD studies at Skoltech, presented a paper (Titled "A University-Based Facility for Complex Assessment and Evaluation of Space-Based Missions") on the results of the year's work in Space Centre's concurrent design laboratory, existing methodology and design patterns used, on one hand, in emerging space systems, and on the other hand, in assessing various existing space mission concepts and projects. The paper was presented at a session titled "Integrated Applications and End-to-End solutions". Summarizing this report was a message that Skoltech views itself as an independent facility able to provide assessment and design services in terms of aerospace engineering with a quality on par with leading facilities and laboratories in Russia, and in some cases (such as concurrent design methods and model-based systems engineering) even surpassing them.
Skoltech Ph.D. student Shamil Biktimirov presented results of the research "Near-Earth Asteroids Utilization as a Base for Building of Earth-Mars-Moon Economy" conducted with colleagues from Bauman Moscow State Technical University, Software Engineering Company «Smart Solutions», and Stanford University. Most of the space mining related topics presented at IAC 2018 consider its application for Earth's needs. However, with the current level of technologies it is hardly feasible to supply the Earth needs by resources from asteroids. The idea of Shamil's work is to consider asteroids as a source of materials for future Solar System colonization. As an example, Mars colony supply-chain problem was reported. It turns out that using resources from asteroids comparing to supply by Earth gives advantageous in a number of aspects and allows supporting bigger colonies.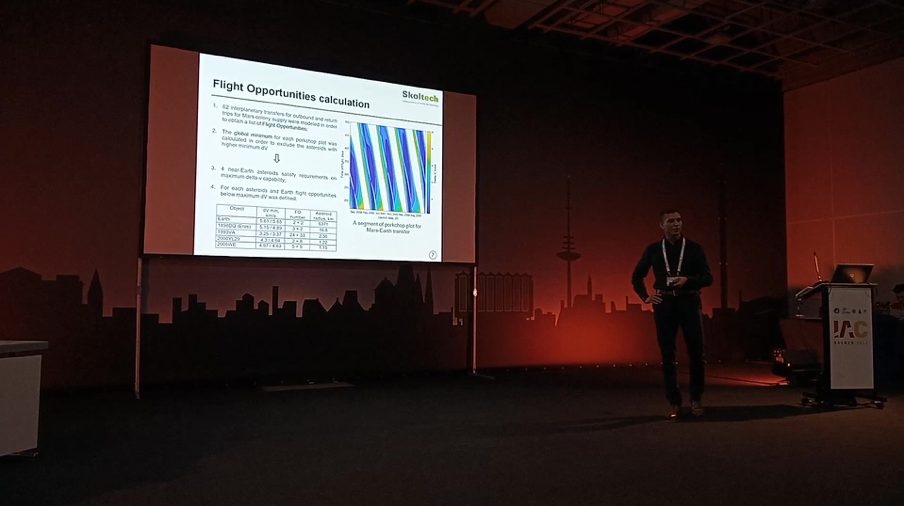 Ph.D. student Shamil Biktimirov presenting his work.
Yaroslav Menshenin, PhD candidate at the Skoltech Space Center, presented a paper entitled «Model-Based Concept Framework for Suborbital Human Spaceflight Missions». In that paper the analysis of the commercial suborbital system is conducted. Based on the system architecture principles, the authors (PhD candidate Yaroslav Menshenin and Professor Edward Crawley) have proposed the rigorous approach to the conceptual design phase of the complex systems development. In particular, the proposed approach can be used in the concurrent engineering design environment, as it allows using this environment at the earlier stages of product development process.
PhD Candidate Yaroslav Menshenin presents his paper entitled the "Model-Based Concept Framework for Suborbital Human Spaceflight Missions" at the International Astronautical Congress.
More photos: