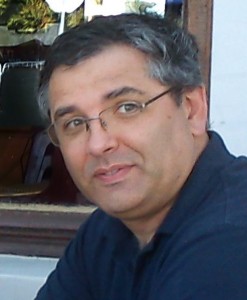 Профессор Артем Абакумов присоединился к команде Центра по электрохимическому хранению энергии!
Профессор Абакумов окончил Химической факультет Московского государственного университета им. М.В. Ломоносова в 1993 году, а в 1997 году защитил кандидатскую диссертацию по химии. После этого он работал младшим научным сотрудников на Химическом факультете, постдоком в Лаборатории электронной микроскопии (EMAT) Университета г. Антверпен (Бельгия), с 1999 года – научным сотрудником на химфаке МГУ. С 2004 по 2008 год проф. Абакумов выполнял обязанности заместителя кафедры неорганической химии на химфаке МГУ, где в 2006 году занял позицию старшего научного сотрудника. Перед переходом в Сколтех, проф. Абакумов занимал позицию ведущего исследователя индустриального исследовательского фонда в Лаборатории электронной микроскопии (EMAT) Университета г. Антверпен.
В своих исследованиях проф. Абакумов занимается изучением кристаллической структуры и дефектов в неорганических твердых веществах с целью создания новых материалов с повышенной функциональностью. Область интересов проф. Абакумова включает такие направления, как неорганическая химия твердого тела, сложные оксиды переходных металлов, апериодические структуры, традиционную и многомерную кристаллографию, структурный анализ с использованием комбинации усовершенствованной просвечивающей электронной микроскопии, дифракции синхротронного излучения и порошковой нейтронной дифракции.
Проф. Абакумов опубликовал более 200 статей в научных журналах с общим индексом цитирования более 2200. Кроме того, он является рецензентом большого количества международных научных изданий, например, Nature Communications, Journal of the American Chemical Society, Chemistry of Materials, Inorganic Chemistry и Journal of Solid State Chemistry. Кроме всего прочего, он является членом Европейского сообщества по микроскопии и главой Группы по исследованию апериодических структур Европейского кристаллографического сообщества.
В качестве профессора Сколтеха, проф. Абакумов будет работать над созданием научной группы, состоящей из высококвалифицированных ученых и работающей над комплексными исследованиями в области материалов для электрохимического хранения энергии.
Артем, добро пожаловать в Сколтех!