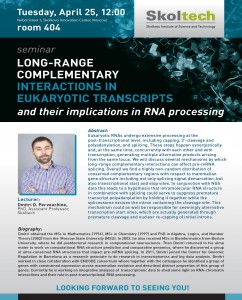 WELCOME TO A SEMINAR BY
Lecturer:
Dmitri D. Pervouchine, PhD, Assistant Professor, Skoltech.
Tuesday, April 25, 12:00
Nobel Street 3, Skolkovo Innovation Center,  Moscow,
room 404
Abstract:
Eukaryotic RNAs undergo extensive processing at the
post-transcriptional level, including capping, 3'-cleavage and polyadenylation, and splicing. These steps happen synergistically and, at the same time, concurrently with each other and with transcription, generating multiple alternative products arising from the same locus. We will discuss several mechanisms by which long-range complementary interactions can affect pre-mRNA splicing. Overall we find a highly non-random distribution of conserved complementary regions with respect to mammalian gene structure including not only splicing signal demarcation, but also transcriptional start and stop sites. In conjunction with NGS data this leads to a hypothesis that intramolecular RNA structure in combination with splicing could serve to suppress premature transcript polyadenylation by holding it together while the spliceosome excises the intron containing the cleavage site. This mechanism could as well be responsible for seemingly alternative transcription start sites, which are actually generated through premature cleavage and nuclear re-capping of initial introns.